Nor' Easter Whips
(Xtra Heavy Duty and Heavy Duty Whips
w/ Nor'Easter Adjustable Base or Pivot-a-way Base)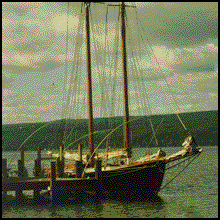 Large boat using the Nor' EasterWhips
The Nor' Easter series offers you our extra-heavy duty whips which are good for boats up to 65' and our heavy duty whips which are good for boats up to 40". We offer two bases, our famous Nor'easter Adjustable base or the Pivot-a-way base.
---
Mini-Moor Whips
(Standard Duty w/ Adjustable Base)
Big Value for smaller boats.

Mini Moor Whips are designed for small boats, up to 20 feet, for use in areas such as lakes where turbulence is moderate. Mini Moor Whip are scaled down models of the original Monarch Moor Whip, and are made with the same quality workmanship found in the original-at a lesser cost.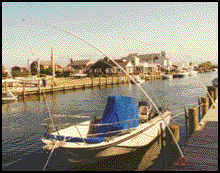 20' boat using the Monarch Mini Whips

The Whips
Monarch Mooring Whips are made of a special, solid fiberglass. The poles are cut to specified lengths and the blanks are then centerless ground to give them a precision taper. They are painted to protect them from the deteriorating effects of ultra violet rays from the Sun. They come in different strengths, Extra Heavy Duty, Heavy Duty, Medium Duty and Standard Duty and different lengths to accomodate different size boats.
Monarch Moor Whips ship with everything you need!
All our Mooring Whip sets consists of the following:
2 precision, centerless-ground, tapered, solid one or two peice fiberglass poles with aluminum tips for rope and P.V.C. bushings.
2 rope lines-including plastic line balance.
2 Marine-grade aluminum cast bases, Adjustable, Pivot-a-way, Sou'easter or Flush or Rail mount with stainless steel hardware.
1 allen wrench.
Instruction sheet for installation.
Warranty card (5-year warranty).
All products come with comprehensive installation instructions. These should be thoroughly studied before installing any of our products.
Sou' Easter Whips
(Standard and Heavy Duty Whips
w/ Sou' Easter Non-Adjustable Base)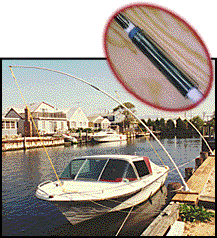 Small boat using the Sou' Easter two piece whip (inset shows patented two piece coupling)
Monarch's Same High Quality In A Value Priced Unit
For the budget conscious boater that still desires the safety and quality Monarch Moor Whips provide we have developed the Sou' Easter Series. We use the same high quality whips as in the Nor' Easter series just simplified to a non -adjustable base. The Sou' Easter with medium duty whips is good for boats up to 25' and Sou' Easter with heavy duty whips are good for boats up to36'. Medium duty whips are availabale in a two piece unit.
---
Yacht Tender Moor Whips
(Standard Duty w/ Adjustable, Flush Mount or Rail Mount Base)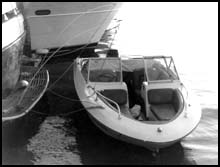 Mounts onto your swim platform!
Yes, it is possible to have the security of Monarch Moor Whips for your tender. Provide protection for both yacht and tender. The same quality workmanship found in the original Monarch Moor Whips just scaled down and adapted to mount properly on your yacht. You can mount this to your swim platform using our famous adjustable base or our specially designed flush mount and now you can also also attach your whips to your rail using our new rail mount.


Flush Mount Base
The Warranty
All our products have a one (1) year warranty against defective workmanship, and Mooring Whips have a five (5) year limited warranty.