Monarch S-Cleats

Made of Almag 35 Aluminum for corrosion resistance, and Magnesium for strength. The Monarch S-Cleat has a wide-spread bolt pattern and large bosses on the underside which provide superior anchoring ability. The bolt area is recessed so bolt heads will stay clear of rope in the tying area.The S-Shape makes it easier to put your dock lines on, and helps hold them more secure. The center opening is more than adequate to loop the lines through twice-giving you a more secure dockside tie-up.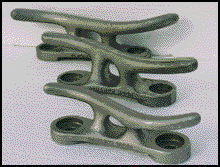 S-Cleats
The Crazy Slat
Mooring Cover Support
The Crazy Slat won't twist or warp from the weather. It will last and last and always comes back straight. Keeps water pockets off and gives new life to stretched canvas.
You won't believe it until You've used it- Guaranteed to Last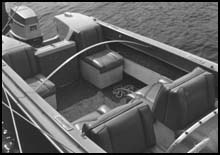 The Crazy Slat